BRIEF HISTORY
Team Pain's Founder & President, Tim Payne is renowned for his 30+ years of continuous contribution to the skate park industry. Since his humble beginnings of building skate ramps in the late 1970's, Mr. Payne has only had one profession and that is designing and building skate parks. His many years of skateboarding experience coupled with his unique design and construction capabilities has made Mr. Payne a leader in the skate park industry. He has personally designed and built over 200 skate facilities worldwide and has received Lifetime Achievement Awards, inductions into industry Hall of Fames and interviews and articles in prestigious publications.
In the early 80s, Tim began building backyard skate ramps throughout the east coast. Skateboard contests were held and word spread to professional skaters of Tim's creations, which led him to build ramps for the NSA (National Skateboarding Association) tours throughout the U.S. The professional skaters were eager for more of Tim's ramps. Consequently, Powell-Peralta contacted Tim to build the largest ramp at that time in 1986 for a video production called "The Search for Animal Chin." Tim along with the professional skaters brainstormed and eventually the half pipe transformed into the creation of the first spine vert ramp. From the famous Animal Chin Ramp to the legendary Chareston Hangar to Woodward Camp to X-Games and everything in between, Tim is renowned for his innovation and contribution to the skateboarding industry. Tim recognized the power of collective involvement by an experienced team and as a result formed Team Pain Enterprises, Inc.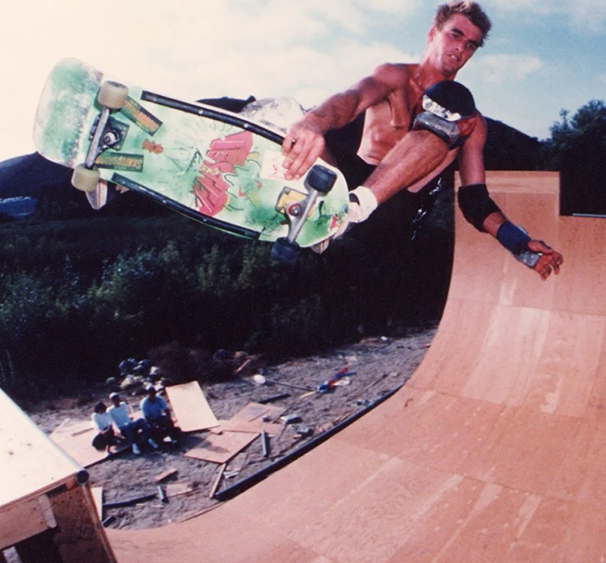 When forming Team Pain in 1997, Mr. Payne knew the only way to continue producing high quality, one of a kind custom skate parks was to ensure everyone in the company was an expert at skating. With the exception of a few administrative staff, every Team Pain member has a minimum of 10 years skateboarding experience. This quality coupled with extensive design knowledge and meticulous craftsmenship contributes to the overall core understanding of how the design and final product is achieved to develop a true custom skate park that the users will get the most enjoyment of for years to come. Mr. Payne, his staff and colleagues work closely with communities, municipalities, general contractors, architects, engineers and professional skateboarders to develop a one of kind Team Pain skate park.