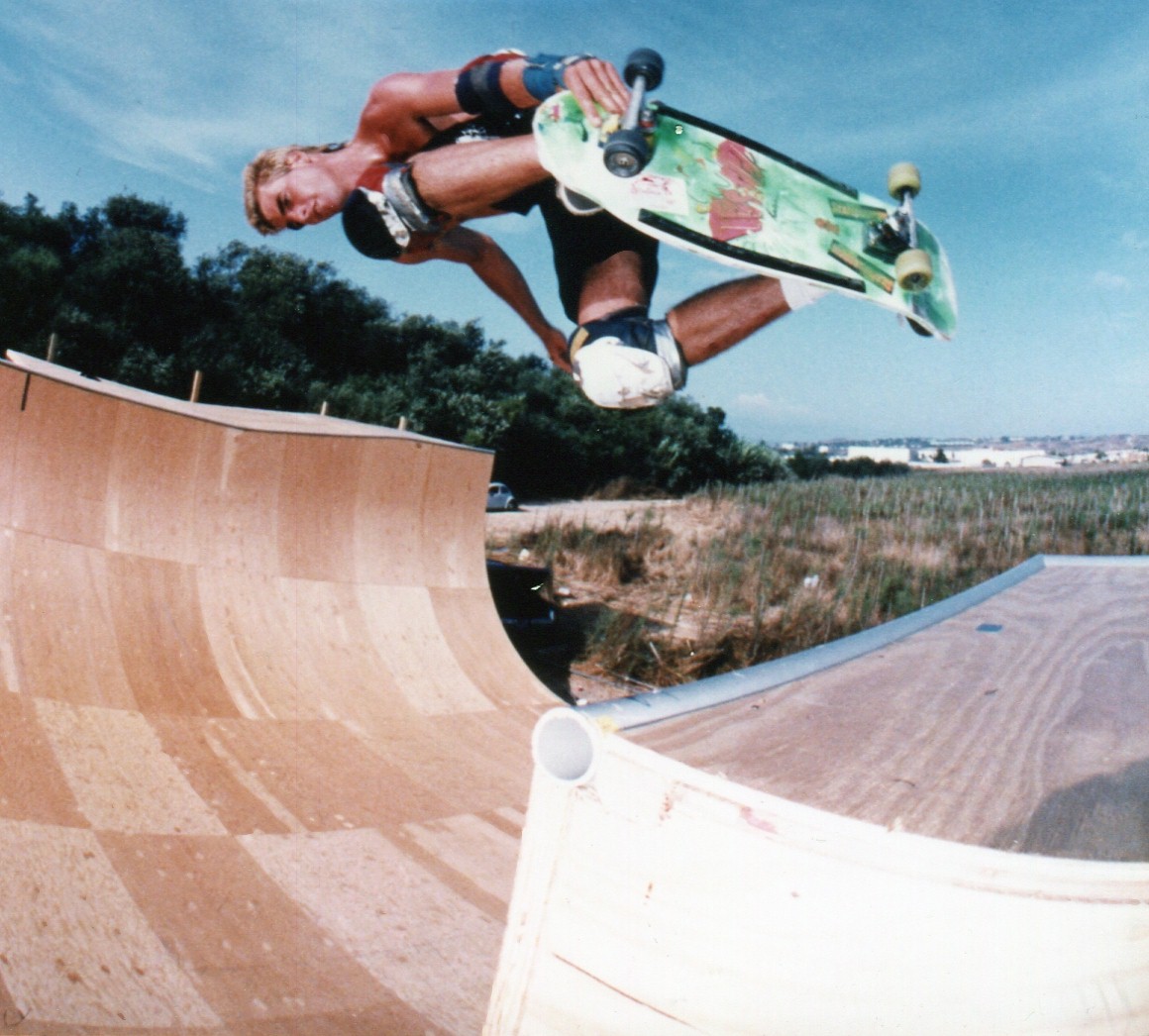 Tim Payne, Animal Chin Ramp – Circa 1986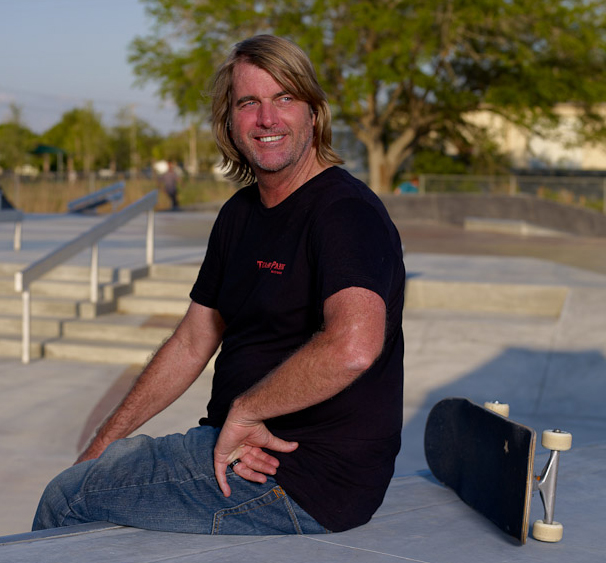 Team Pain's Founder & President, Tim Payne is renowned for his 35 + years of continuous contribution in the skate park industry. Many years of skateboarding and surfing experience, coupled with his unique design and construction capabilities has made him a leader in the skate park industry; personally, designing and building over 250 skate structures and skate parks worldwide. Tim is respectfully acknowledged for developing extremely challenging "first-ever" & world record structures that push the limits of skateboarding and bmx biking for professional riders, like the original Search for Animal Chin ramp, first wooden bowls including the Charleston Hangar, Matt Hoffman's world record high air quarter pipe, the first loops for Tony Hawk, the Hawaii Y Ramp, first Mega Ramp for Swatch and Bob Burnquist's personal ramps including the Grand Canyon rail, to name just a few.
He has provided numerous private training facilities for core industry companies and televised media events like the X-Games, MTV's Jackass Productions, MTV Sports & Music Festivals, along with the motion picture industry. Tim helped to spearhead skate park guidelines in the 1990s to establish industry standards for custom, poured-in-place concrete skate parks. Following the successful path of other states, he led the efforts to establish Florida State Statute 316.0085, addressing the need for more public skate parks in Florida and reduce the liability on municipalities to promote free and unsupervised skate parks. Mr. Payne's distinguished history and innovation in the skate park industry has presented him with Lifetime Achievement Awards, inductions into industry Hall of Fames and numerous prominent publications.
The Team
When forming Team Pain in 1997, Tim knew the only way to continue producing high quality, one of a kind custom skate parks was to ensure everyone in the company was an expert at riding. Most Team Pain members have a minimum of 10 years riding experience. This quality coupled with design knowledge and meticulous craftsmanship contributes to the overall core understanding of how the design and final product will be achieved to develop a true, optimal riding experience.
Throughout our history, Team Pain has continuously implemented and perfected our technique and method to meet the challenging requirements and evolving trends of action sports enthusiasts. This has allowed the company to produce innovative, cutting edge, poured in place concrete skate parks that are unrivaled in the industry. Being a company that is comprised of experienced riders, our passion for the sport have dedicated our team to providing a unique and highly specialized product. As the Skate Park Specialist, we are involved in the planning and design of the rideable features to the actual construction of these features, allowing the company to deliver high quality; custom skate parks, on-line quickly and within budget.
By taking into consideration all users, from top professional to novice, the approach is to create unique; one of kind skate park facilities that are not only innovative and challenging but is a direct reflection of its users; encouraging the personal advancement of any individual who experiences a Team Pain Skate Park.
Team
Linda Payne
CFO/Administrative Director
James Hedrick
Construction Project Manager
Curt Baker
Construction Project Manager
Tony Walsh
Construction Project Foreman
Jaclyn Walker
Project Coodinator
EARLY HISTORY
1972 – 1983

Tim Payne started skateboarding and creating many backyard ramps, for him and his friends, in the greater Orlando area. Many skaters traveling through Orlando would skate these ramps and word got around.

1983 – 1985

Tim Payne met Paul Schmitt and the Schmitt Stix's Team. They would come from Tampa to skate Tim's ramps and Paul asked Tim to help make demo ramps for demonstrations and contests.

1986

First Big Break – Tim Payne was asked by Frank Hawk (Tony Hawk's dad) to start building ramps for The National Skateboarding Association (NSA). The 1st contest was held in Mobile, Alabama for the Hot Tropic Contest.

1987

The Search for Animal Chin – Tim Payne was contacted by Stacey Peralta to build the ramp for the Bones Brigade movie "The Search for Animal Chin" with Tony Hawk, Steve Caballero, Lance Mountain, Mike McGill, and Tommy Guerrero. This was the first spine ramp.

1988

The Vision Skate Escape – This ramp was the largest at the time. The Red Hot Chili Peppers performed at this contest.

1989

Charleston Hanger & Atlanta Skate Zone – First wooden pool bowls. Y Ramp Blazedale Arena, Oahu, HI "Mark Gonzalez ollies the 12 foot gap", Skateboard Summer Camps: – Camp Woodward, PA, Visalia, CA YMCA Camp, YMCA Camp Erdmund in Oahu, HI

1996

The first plaza course competition – MTV Sports and Music Festival: Austin, TX. Produced the "Skatepark Revolution (S Park)" Video that documented the destruction of private skate parks and the need for cities to provide public skating facilities. The first wooden loop for Tony Hawk. Jeff Hammond joins Team Pain and leads the wood division

1997

Tim Payne formed Team Pain Enterprises, Inc. and it was the start of designing & building concrete skate parks. James Hedrick joins Team Pain and leads the concrete division, Guinness World Record – Danny Way's helicopter drop (The largest big air ramp), Skate Lab Skatepark and Museum

1998

First ESPN X-Trials and X-Games ramps, Bull Ring Loop for the Birdhouse movie "The End", MTV Sports and Music Festival in Memphis, TN, 1999 MTV Sports and Music Festival, Hard Rock Hotel roof-top Las Vegas, NV, X-Games ramp where Tony Hawk performed the first 900, The first Mega Ramp for Andy MacDonald for Swatch

1999

MTV Sports & Music Festival Hard Rock Hotel Roof Top Vegas, X-Games vert ramp where Tony Hawk performed the first ever 900, The first Mega Ramp for Andy McDonald and Swatch

2000

MTV's Jackass: Episode 5 of Season 1 – Loop & Human Slingshot, Bob Burnquist's private skate compound, City of Aspen concrete skate park (the first concrete park using colorant and natural boulders)

2001

Design of the City of Ripon Skate Park, CA – voted Best Skate Park by Thrasher & Big Brother Magazines

2002

Received "2002 Merit Award for Design by the American Society of Landscape Architects" Colorado Chapter for the City of Aspen's Rio-Grande Skate Park, Award of Excellence in Skate Park Construction, Concrete Skate Park Design, Concrete Skate Park Construction by the Concrete Disciples & Skate Park Association USA , Tim Payne acknowledged with a "Lifetime Achievement Award" by Concrete Disciples & Skate Park Association USA, the first Open End Loop for Bob Burnquist – King of Skate at Burnquist's Compound, the first "Mega Ramp" for Danny Way – King of Skate at Point X-Camp, CA, Jack Ass the Movie: Human Mouse Trap

2003

Tim Payne is acknowledged with a "Lifetime Achievement Award" by Florida Skater.com, ESPN X-Games – the largest vert ramp at that time at 128 feet long and after the games was moved to Encinitas YMCA in CA, Team Pain "Recognition for Outstanding Work" by Concrete Disciples & Skate Park Association USA

2005

Discovery Channel's, Monster House Show "Skate House Episode", the first Corkscrew Ramp for Bob Burnquist, Girl Skateboard's Training Facility, Surf Expo – Volcom's "Sausagefest Contest"

2006

Kona Pool Renovation – Jacksonville FL, Jackass: The Sequel – Full pipe loop & wedge ramp, Stunt Junkies Show "Grand Canyon Parachute Jump for Bob Burnquist", Team Pain is recognized by Time Magazine as one of the best skatepark designers in the world. The article titled "It's All In The Swoop"

2007

Tim Payne is inducted into the Florida Skater Hall of Fame, Sector 9 Team Facility – "Wooden bowl", Surf Expo Volcom's "Acid Drop Contest"

2008

DVS Shoe Company training facility, Skate Park of Tampa, Tampa Pro contest, Colorado Springs-Memorial Skate Park at 42,000 square feet – Team Pain's largest concrete skate park

2009

Denver Westword voted Colorado Springs-Memorial Skate Park "Best Skate Park in Colorado 2009", National Geographic "The 10 Best of Everything Families" (5 of the 10 best skate parks in the country)

2010

Jackass: 3-D Movie – Slip n bowl, Denver Westword voted Roxborough Skate Park "Best Skate Park in Colorado 2010"